09
Aug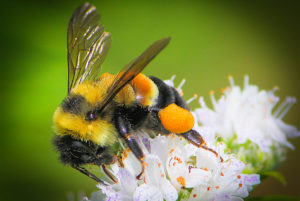 (Beyond Pesticides, August 9, 2018) Last week, the Massachusetts legislature failed to pass legislation that would have restricted the use of neonicotinoid pesticides in the state in order to protect sensitive pollinators, but advocates vow to campaign for a victory in the next legislative session. H. 4041, would have restricted neonicotinoid uses to certified applicators only. Massachusetts beekeepers lost 65 percent of honey bee hives this year, a rate 25 percent higher than the national average.
H. 4041, An Act to Protect Massachusetts Pollinators, introduced in 2017, failed to make it to the floor before the end of the legislative session, which ended July 31. The bill gained the support of more than 100 Massachusetts scientists and academics who sent a letter to the Joint Committee on Environment, Natural Resources and Agriculture in support. Over 180 scientists, businesses, beekeepers, farmers, and conservationists formally endorsed this bill to restrict neonicotinoid use to licensed applicators. The Massachusetts County Beekeepers Association worked to organize an extensive grassroots advocacy movement in support of the bill.
H.4041 would have placed "common-sense" restrictions on unlicensed use of neonicotinoids. It would require neonicotinoids to be used by licensed or certified applicators, and would also limit the use of the pesticide during the blooming season to agricultural and horticultural uses only. The bill also had provisions for neonic education and training. While this may not have necessarily reduced uses in agricultural settings, over-the-counter residential uses would have been impacted.
While H.4041 never made it to a vote, advocates in the state are ready to take up the measure during the next legislative session. George Krusen, a beekeeper from Boxborough, noted the attention the bill got. And while he said he realized the volume of work that needed to be done before the end of the legislative session, he and others were "disappointed" the bill didn't make it to the floor.
Maryland became the first state in the nation to take action to protect pollinators by passing the Pollinator Protection Act. The bill prohibits consumers from buying pesticide products containing neonicotinoids starting in 2018. Maryland also took action to protect pollinators found in designated state pollinator habitat by passing SB 386/HB 830, Pollinator Habitat Plans- Plan Contents- Requirements and Prohibition, which will require pollinator habitat plans developed by any state agency to be as protective of pollinators as the Maryland Department of Agriculture's managed pollinator protection plan requires. Connecticut has also unanimously passed a wide-ranging bill, An Act Concerning Pollinator Health, aimed at protecting declining pollinator populations from neonicotinoids.
Studies have found neonicotinoids to be associated with altered feeding behaviors and reduced egg development in bumblebee queens, as well as the inhibition of pollination skills among bumblebee workers, the loss of bumblebees' characteristic "buzz" pollination technique, and reductions in overall colony size. A recent UK study finds bees living in suburban habitats are being exposed to high levels of neonicotinoid pesticides, highlighting the need for urban and suburban gardeners to forgo the use of these pesticides in favor of more holistic, pesticide-free approaches. For more, visit the What the Science Shows page.
Despite the mounting scientific evidence, there is no apparent indication that the U.S. Environmental Protection Agency (EPA) will ban the use of these chemicals. This, in spite of recent action taken in the European Union which instituted an EU-wide moratorium in 2013 on the use of thiamethoxam, clothianidin, and imidacloprid on bee-attractive flowering crops, such as oilseed rape, and earlier this year, expanded the ban to include all field crops in 2019. According to the European Commission, protection of bees is an important issue, since it concerns biodiversity, food production, and the environment.
Choosing organically cultured plants and organic foods contributes to the transition away from bee-killing neonicotinoids and other pesticides. Beyond Pesticides offers helpful guidance on companies and organizations that sell organic seeds and plants to the general public. Included in this directory are seeds for vegetables, flowers, and herbs, as well as living plants and seedlings. See Beyond Pesticides' BeeProtective program for more information on science, policy, and advocacy. Watch and share the video Seeds that Poison for a short and concise explanation of the threat to pollinators and the solution.
All unattributed positions and opinions in this piece are those of Beyond Pesticides.
Source: Friends of the Earth