16
Dec
(Beyond Pesticides, December 16, 2010)The Center for Biological Diversity notified the U.S. Fish and Wildlife Service (USFWS) and U.S. Environmental Protection Agency (EPA) December 15 of its intent to sue the agencies for failing to study and act on threats posed by more than 60 pesticides to the threatened California red-legged frog. A 2006 legal settlement secured by the Center required the EPA to assess the impacts of pesticides on the frog, then consult with the U.S. Fish and Wildlife Service (USFWS) under the Endangered Species Act to address those impacts, by 2009. The completed assessments were submitted to the Wildlife Service between March 2007 and October 2009. Although EPA determined that 64 registered pesticides are likely to harm the frogs, the Service has not completed any consultations or adopted protective measures.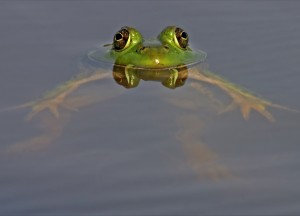 "The EPA acknowledges that scores of pesticides may be dangerous to California's rare red-legged frogs, but nothing's been done about it," said Jeff Miller, a conservation advocate with the Center. "This three-year delay violates the Endangered Species Act and jeopardizes the future of the largest native frog in California."
Historically abundant throughout California, red-legged frogs have declined in numbers over 90 percent and have disappeared from 70 percent of their former range. Studies implicate pesticide drift from the Central Valley in disproportional declines of several native frog species in the Sierra Nevada, including red-legged frogs. USFWS has noted that the percentage of upwind land in agricultural production is 6.5 times greater for Sierra Nevada and Central Valley sites where red-legged frogs have disappeared than for sites where frogs still live. Amphibians are declining at alarming rates across the globe, and many scientists believe that industrial chemicals and pesticides may be partially to blame.
Overall, more than 200 million pounds of pesticides are applied each year in California; for most of these chemicals, the EPA has failed to consult with the USFWS to determine impacts on endangered species. The Endangered Species Act requires the EPA to consult with endangered species experts to determine how pesticides affect species and their critical habitats. The Center and other groups have filed a series of lawsuits forcing such consultations, primarily in California, and put in place interim restrictions on pesticide use in and near endangered species habitats.
Amphibians are declining at alarming rates around the globe, and scientists believe industrial chemicals and pesticides may be partly to blame. Numerous studies have definitively linked pesticide use with significant effects on amphibians: Pesticides can cause abnormalities, diseases, injury and death in these frogs and other amphibians. Because amphibians breathe through their permeable skin, they are especially vulnerable to chemical contamination. Frog eggs float exposed on the water surface, where pesticides tend to concentrate, and hatched larvae live solely in aquatic environments for five to seven months before they metamorphose, so agricultural pesticides introduced into wetlands, ponds and streams are particularly harmful. Many of the pesticides that pose a threat to the frog are also known to be harmful to human health.
"Because they're so sensitive to chemical contaminants, frogs are an important barometer for the health of our aquatic ecosystems," said Mr. Miller. "Ultimately, pesticides found in the red-legged frog's critical habitat can also contaminate our drinking water, food, homes and schools, posing a disturbing health risk."
Background
Formal consultations between the EPA and the Fish and Wildlife Service are designed to ensure that the agency avoids authorizing pesticide uses that jeopardize endangered species. At the completion of consultation, the Service issues a "biological opinion" that determines if the agency action, in this case registration of a pesticide, is likely to jeopardize listed species. The opinion may specify reasonable and prudent alternatives that will avoid jeopardy and may also suggest use restrictions to avoid adverse effects.
In 2002, the Center filed litigation challenging the EPA registration and reregistration of scores of the most toxic and persistent pesticides authorized for use in California, based on the risk they pose to the red-legged frog. A federal court found in 2005 that the EPA had violated the Endangered Species Act, and a 2006 settlement agreement prohibited the use of 66 harmful pesticides near core frog habitats until the EPA completed the required consultations with the Service.
EPA has since conducted "effects determinations" for all 66 pesticides. The registrations of two chemicals, Fenamiphos and Molinate, were subsequently cancelled. EPA determined that 64 other pesticides are "likely to adversely affect" or "may affect" the frog; and between 2007 and 2009 the agency began requesting formal consultations with the Fish and Wildlife Service. The Service had 90 days to complete each review, but has failed to meet those deadlines.
The 64 pesticides that may pose risks to the frog are: 2,4-D, Acephate, Alachlor, Aldicarb, Atrazine, Azinphos methyl, Bensulide, Bromacil, Captan, Carbaryl, Chloropicrin, Chlorothalonil, Chlorpyrifos, DCPA, Diazinon, Dicofol, Diflubenzuron, Dimethoate, Disulfoton, Diuron, Endosulfan, EPTC, Esfenvalerate, Glyphosate, Hexazinone, Imazapyr, Iprodione, Linuron, Malathion, Mancozeb, Maneb, Metam sodium, Methamidiphos, Methidathion, Methomyl, Methoprene, Methyl parathion, Metolachlor, Myclobutanil, Naled, Norflurazon, Oryzalin, Oxamyl, Oxydemeton methyl, Oxyfluorfen, Paraquat, Pendimethalin, Permethrin, Phorate, Phosmet, Prometryn, Propanil, Propargite, Propyzamide, Rotenone, Simazine, Strychnine, Telone Thiobencarb, Tribufos, Triclopyr, Trifluralin, Vinclozolin and Ziram. For information on these chemicals, please see Beyond Pesticides' Pesticide Gateway page.

Source: Center for Biological Diversity Press Release