23
Feb
(Beyond Pesticides, February 23, 2016) A coalition of local parents and community health groups from California's Central Valley are calling on the state to set one mile buffer zones around schools in order to reduce children's exposure to highly toxic pesticides. The request comes after research from the University of California, Los Angeles (UCLA) found widely used fumigant pesticides in central California interact synergistically and increase health risks.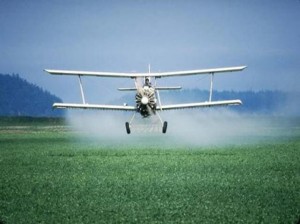 Although California is subject to regressive pesticide preemption laws, county agricultural commissioners have the authority to regulate and enforce pesticide use at the local level. While the state currently sets minimum buffer zones around schools at 500 ft., certain California counties require increased levels of protection around these sensitive sites. However, activists charge that state standards and even locally wider buffer zones are not adequately protecting community health, and comprehensive statewide regulations are needed. In July of 2015, after years of pressure from activists, the California Department of Pesticide Regulation (CDPR) held a series of workshops to gather community input on new rules governing pesticide use near schools. According to The Desert Sun, CDPR is expected to release its first draft of the new regulations for public comment at the end of February.
The stakes are high for families living in the Central Valley. Fumigant pesticides are highly toxic and have a strong propensity to drift far off a target site. UCLA's recent report found that mixtures of fumigant pesticides may increase the possibility of gene mutations and decrease the body's ability to repair damaged DNA. The Fresno Bee reported that a nine year old boy, who lives and goes to school close to an orange grove where pesticides are often applied, tested positive for over 50 different chemicals, based on a hair sample provided to researchers. "I was concerned and upset," the boy's mother said to the paper.
While increased buffer zones may provide some reprieve from pesticide trespass, it will not eliminate health concerns for children in the region. Virginia Zaunbrecher, JD, of UCLA's Science and Technology program remarked to Fresno Bee, "In general, a buffer zone is going to decrease exposure, but it's not going to eliminate exposure." Beyond Pesticides has long encouraged a minimum two mile buffer zone for agricultural pesticide use around sensitive areas. Also important for communities isan adequate route of communication and notification when pesticide applications will be taking place.
"We can work with growers. We don't have to tell them to stop using them, but we have to learn about the cross-sectionality that these pesticides have," said Michelle Hasson of the Leadership Counsel for Justice & Accountability to The Desert Sun. "If we're going to use the most hazardous pesticides, they can't be along a school bus route. There are alternatives." These statements point to the overwhelming obstacles adversely affected low-income and minority communities are subject to in this fight for health-protective policies.
More than a decade ago, six families filed a civil rights complaint with the U.S. Environmental Protection Agency (EPA) that details the dangerous levels of pesticides at Latino public schools throughout California that exposed Latino kids to chemicals linked to cancer, birth defects, neurodevelopmental disorders and other serious health problems. The complaint urged EPA to enforce the Title VI of the Civil Rights Act, which prohibits recipients of federal funds from engaging in discriminatory practices. In 2011, as a result of a settlement agreement EPA reached with CDPR, EPA found that CDPR's past renewal of the toxic fumigant methyl bromide discriminated against Latino school children whose schools are located near agriculture fields, conceding that unintentional adverse and disproportionate impact on Latino children resulting from the use of methyl bromide during that period could have occurred. Methyl bromide is still widely used in California to grow strawberries, despite its ban under the Montreal Protocol. However, little was done to remedy these exposures and so a lawsuit was filed in 2013 against EPA's continuing failure to protect Latino students. The case was subsequently moved for dismissal in federal court in part due to lack of jurisdiction.
In the county of Kauai, Hawaii, even a modest proposal to implement California's current 500 ft buffer zones around sensitive sites like schools and hospitals was met with intense opposition from agrichemical industry interests. Although a law was passed, it was struck down in the courts, and a state proposal currently faces significant hurdles.
Ultimately, what is needed to truly protect community health is a transition away from toxic pesticides towards agricultural practices which promote pest resilience and decrease the need for toxic chemicals. A wide variety of alternative practices and products are now coming online to assist growers in preventing pest problems before they start. Organic agriculture, which requires farmers to improve soil health and craft an organic system plan to guide pest control decisions, represents a viable path forward for agriculture in California and beyond. As researchers from Washington State University established earlier this month, the transition to organic agriculture is essential to a healthy, sustainable future for people and the planet.
All unattributed positions and opinions in this piece are those of Beyond Pesticides.
Source: The Desert Sun, Fresno Bee