10
May
(Beyond Pesticides, May 10, 2017) Local authority to restrict pesticides is under attack in Maine, as Governor Paul LePage has introduced a bill that would explicitly preempt the right of municipal governments to restrict pesticide use on private property. The bill, LD 1505, mirrors chemical industry efforts to suppress or preempt local democratic action to adopt public health and environmental protections in order to allow the unimpeded marketing of hazardous prod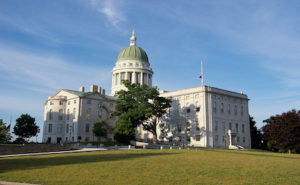 ucts. Those industry groups that are leading the charge to preempt local government action have a vested economic interest in selling toxic products and services and stifling the market from moving toward greener alternatives. Passage of the bill in Maine would serve as a huge blow to many local communities that currently regulate pesticides more stringently than the state, as the bill also includes language voiding any local regulations that predate the bill.
Communities that restrict pesticides recognize that pesticides released in the environment know no boundaries, so that use can contaminate air, water, and land throughout the community. The effort in Maine to preempt local pesticide ordinances is likely being advanced by the American Legislative Exchange Council (ALEC), given that the language is modeled after the organization's State Pesticide Preemption Act, drafted in 1995. Similar language appears in state laws across the country that were pushed through state legislatures by a coalition of pesticide manufactures and users after the U.S. Supreme Court in 1991 upheld the right of local governments to restrict pesticides under federal pesticide law, the Federal Insecticide, Fungicide and Rodenticide Act (FIFRA). In fact, only seven states, Alaska, Hawaii, Maine, Maryland, Nevada, Utah and Vermont, currently maintain the right of local municipalities to regulate pesticides through the absence of explicit preemption language.
Legislation incorporating preemption language has led to a battle for local control of the democratic process, as more and more local grassroots organizations mobilize effectively with knowledge of the hazards that accompany many lawn care products containing pesticides and the availability of alternative products and land management systems. For a more detailed explanation of state preemption law and how it affects local communities, please see Beyond Pesticides' State Preemption Law factsheet.
Some of the most decisive victories in recent years as far as the ability local communities to regulate pesticides have come out of Maine. In 2014, the town of Ogunquit voted to become the first town in the state to prohibit the use of pesticides on public and private property for turf, landscape, and outdoor pest management activities. The ordinance was passed after a three-year education and awareness campaign, initiated by the town's Conservation Commission, and expanded upon existing pesticide use restrictions on town-owned property. More recently, in 2016 the town of South Portland passed an ordinance banning the use of toxic lawn pesticides on private and public land. The ban, which passed 6-1, protects 25,000 residents, the largest jurisdiction in the state to-date to adopt such as measure. Both of these ordinances would be affected by L.D. 1505, as the language of the proposed bill states that, "An ordinance regulating the sale or use of pesticides adopted prior to the effective date of this subsection is void."
According to the Portland Press Herald, the pesticide measure introduced by the governor is the latest in a string of bills modeled to legislators by ALEC. Based on his research, staff writer Colin Woodward points out that "while ALEC claims to be a nonpartisan professional association for state legislators, virtually all of its funding comes from its corporate members [which include CropLife America, Dow Agrosciences and the American Chemistry Council], who give "scholarships" for lawmakers to attend ALEC conferences, where the group works with them to draft legislation." He also reports that ALEC keeps the names of its members, which includes 1,500 state legislators, concealed, limiting accountability to constituents.
ALEC's actions are primarily driven by its vested economic interest in the status quo and the profit they stand to gain by stifling the transition to green products. If successful, their preemption efforts would significantly slow the growth of a new market, as well as technologies that aid in the transition away from toxic pesticide use and dependence. Their economic motives differ significantly in scope from NGOs and other state and local organizations that are working to limit pesticide use in an effort to protect human health and the environment.
"Preemption is one of their main goals, preemption of the democratic process by having higher levels of government supersede the local level," said Jay Feldman, executive director of Beyond Pesticides, an environmental nonprofit based in Washington, DC that promotes the rights of municipalities to restrict pesticides and consistently tracks ALEC's efforts. "Industry adopted pesticide preemption before ALEC, but ALEC has taken up the mantle and been the predominant force in advancing it for some time."
The bill is set to be voted on next week, and opponents of the measure are urging  Maine legislators to uphold the tradition of protecting local control. Two recent legislative defeats, one regarding broadband and the other minimum wage, indicate that bills preempting local control are not well received in Maine and that there is hope for defeat. When speaking to the Portland Press Herald, head of the political science department at the University of Maine in Orono, Amy Fried, Ph.D. pointed out that, "Maine has a long tradition of localities being fairly autonomous and independent, and therefore towns guard their powers and their ability to make their own decisions." She continued, "Legislators are from those areas and steeped in those traditions, and they are also accountable to local constituencies. And therefore they would not want to just simply hand over the powers to state government."
Beyond Pesticides submitted comments on behalf of its Maine members opposing LD 1505, which can be viewed by clicking here.
TAKE ACTION: Community activism is the best way to get your town to adopt a policy that limits toxic pesticide use similar to those passed by the town of Ogunquit or South Portland. For assistance in proposing a policy to your city council (or its equivalent), contact Beyond Pesticides at  info@beyondpesticides.org or 202-543-5450. For more information on being a part of the growing organic lawn care movement, see Beyond Pesticides Lawns and Landscapes program page. Let your neighbors know your lawn and garden are organic by displaying a Pesticide Free Zone sign.
Source: Portland Press Herald
All unattributed positions and opinions in this piece are those of Beyond Pesticides.