17
Jun
(Beyond Pesticides, June 17, 2016) The pesticide industry has weakened and delayed pesticide reforms and is shaping new state pollinator "protection" plans nationwide that do little to protect bees, according to a new Friends of the Earth report. The report is being released in advance of Pollinator Week (June 20-26, 2016), as people assemble to ask for improved protection for pollinators.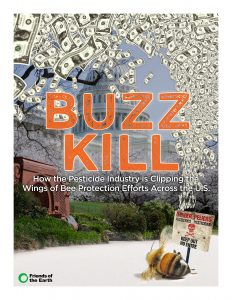 The investigation, Buzz Kill: How the Pesticide Industry is Clipping the Wings of Bee Protection Efforts Across the U.S., reveals an array of pesticide industry tactics to slow urgently needed pollinator protection measures at federal and state levels. The report details how new state pollinator protection plans, many still unfinished, have been heavily influenced by pesticide industry interests. According to the report, industry is spending hundreds of thousands of dollars on lobbying to delay state and federal action on the chemicals they manufacture. As a result, state pollinator protection plans across the U.S. are falling short in several ways, including:
State pollinator protection plans currently provide more protections for pesticides and pesticide users than for bee keepers and bee colonies.
Pesticide industry influence is pervasive throughout states' legislative and regulatory planning efforts.
Plans lack metrics to measure effectiveness, improvement or failure.
Industry giants, like Bayer, Syngenta and Monsanto, have long been known to influence shaping federal and state pesticide policies to their benefit. In what is known as the revolving door at federal agencies, employees of the U.S. Department of Agriculture (USDA) and the U.S. Environmental Protection Agency (EPA) have shuffled between regulatory agencies and pesticide companies. The pesticide industry also directly funds or influences science by donating to education initiatives and building strategic alliances with academics.
Buzz Kill updates FOE's 2014 "Follow the Honey" report, which revealed how chemical companies Bayer, Syngenta and Monsanto employ deceptive tobacco-style public relations tactics to manufacture doubt about scientific findings on pollinator die-offs, and protect chemical industry sales and profits at the expense of bees and our environment.
However, in light of federal inaction and industry influence, beekeepers, activists and concerned individuals are gearing up the celebrate pollinators and call for stronger protections this Pollinator Week which run from June 20-26, 2016.
Get Involved this Pollinator Week:
Made by Pollinators Campaign
Select restaurants in the DC-area will celebrate pollinator week by identifying ingredients that are pollinator dependent and showcasing the importance of pollinators to our food system. These restaurants also support local, organic and sustainable practices that take into account whole food and ecological systems. Given that every one in three bites of food is reliant on pollination, the campaign will educate the public on the importance of pollinators and ways to become more involved in protecting bees and other pollinators. For more information, visit www.beeprotective.org
Participating restaurants include:

Busboys and Poets
1025 5th St NW (and at other select locations)
Founding Farmers
1924 Pennsylvania Ave NW, Washington, DC 20006 (and at other select locations)
Lavagna
539 8th St SE, Washington, DC 20003
Tabard Inn
1739 N St NW, Washington, DC 20036
Restaurant Nora
2132 Florida Ave NW, Washington, DC 20008

Keep the Hives Alive Tour
As part of nationwide efforts to raise awareness about the decline of honey bees and other pollinators, the Keep the Hives Alive tour will travel the country urging Congress, EPA, and USDA to take real action to protect these critical species from toxic pesticides. The tour is organized by beekeepers, farmers, farmworkers, scientists and advocates and will stop in South Dakota, Minnesota, Michigan, Pennsylvania, North Carolina and Washington, DC before and during National Pollinator Week, June 13-23. Beekeepers will drive a bee truck between each stop, with a display of dead bees to demonstrate one beekeepers loss.
Please participate if you are located near any of the stops on the tour!
Use Facebook event pages to get more involved:
o   Lewisburg, Pennsylvania: Hackenburg Apiaries, June 18th
o   Research Triangle Park, North Carolina: Bayer Headquarters, June 20th
o   Washington, DC: EPA Headquarters, June 22nd.
Other ways to get involved for Pollinator Week and beyond:
Declare your garden, yard, park or other space as pesticide-free and pollinator friendly.
You can pledge your green space as pesticide-free and pollinator-friendly this week. It does not matter how large or small your pledge is, as long as you contribute to the creation of safe pollinator habitat. Sign the pledge today. Need ideas on creating the perfect pollinator habitat? The Bee Protective Habitat Guide can tell you which native plants are right for your region.
Become a BEE Protective Ambassador  on your college campus. This project taps into enthusiastic environmental activists on college campuses throughout the country wishing to make a positive impact on the health of local pollinators and other wildlife. Student activists can pledge their campus or student organization to become ambassadors which involves creating pollinator habitat on campus, and working to change harmful pesticide use policies on campus.
Support pollinator friendly legislation. Ask your U.S. representative to support the re-introduced Saving America's Pollinator Act (SAPA). This is a bill that would suspend the use of neonicotinoid pesticides until a full review of scientific evidence and a field study demonstrates no harmful impacts to pollinators. Contact your Representative now.
Support retailers that are providing safer alternatives. Local ACE franchises are already proving that hardware stores don't need to sell neonics or any other toxic pesticides in order to be financially successful. Eldredge Lumber and Hardware and Kittery ACE of York, Maine are consciously stocking their shelves with organic compatible products, and providing seeds and nursery plants that are not treated by bee-toxic chemicals. Visit your local hardware or garden retailer and ask them to also to stop selling neonicotinoids and other bee-toxic pesticides, and source more organic alternatives, or give them a call today! You can also find your own source of organic seeds and plant starts by going to Beyond Pesticides' Pollinator Friendly Seed and Nursery Directory.
Tell EPA to do more for pollinators. EPA has acknowledged that pesticides are a problem, but little meaningful action has been done to reverse pollinator declines. Bees need real protections from toxic pesticides now. It's time for EPA to get serious about protecting bees by suspending neonicotinoids.
Make Change Happen in Your Community. Armed with allies and resources from your video screening party, go to your elected official and ask them to introduce the Model Pollinator Resolution and/or our Model Lawns and Landscapes policy.
–Get the Model Community Pollinator Resolution here, and our Model Lawns and Landscapes Policy here.
–For more information, see our BEE Protective webpage, or get in touch with us.
All unattributed positions and opinions in this piece are those of Beyond Pesticides.
Source: FOE press release