20
Jun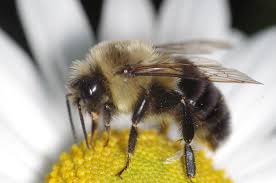 (Beyond Pesticides, June 20, 2018) Bumblebee queens that wake up from hibernation to a neonicotinoid-contaminated, monofloral landscape take longer to set up their nest and die-off at higher rates, according to new research from the University of California, Riverside (UCR) published in the journal Proceedings of the Royal Society B.  While this is the first study to evaluate multiple stressors – pesticide exposure and a monotypic diet – on bumblebee pollinators as they initiate a new colony, it is far from the first to conclude that the neonicotinoid class of insecticides result in unacceptable adverse impacts to insect pollinators. With Pollinator Week 2018 underway, advocates say it is time that the U.S. catches up to the European Union and Canada and starts to ban the use of bee-toxic neonicotinoid insecticides.
Bumblebee queens only live long enough to produce one colony. After establishing a colony over the spring and summer months, by fall a new queen hatches and the old queen dies. The new queen leaves the nest and mates, then goes underground to seek shelter and hibernate over the winter. If she makes it through the winter, the single queen will then emerge in spring to begin her own colony and start the cycle anew. Unlike honey bees, which produce colonies that can contain upwards of 50,000 bees, bumblebees create small colonies that will usually top out at around 450 bees. These factors all leave much more room for error and increase the risk of colony failure due to adverse environmental conditions.
"Queens are probably already a bottleneck for bumblebee population dynamics," said Hollis Woodard, PhD, lead author of the study in a press release. "If a queen dies because of exposure to manmade stressors, then a nest full of hundreds of important pollinators simply won't exist."
UCR researchers aimed to investigate whether a hazardous environment, such as pesticide contamination or lack of floral diversity, affected a bumblebee queen's ability to successfully establish a new colony. The neonicotinoid imidacloprid was applied at a sublethal rate – 5ppb-  in nectar fed to bumblebee queens after waking from hibernation. Those constantly exposed to this dose over the course of a little over a month were roughly six times more likely to die, and exhibited significantly less activity. At a shorter exposure time period of roughly half a month, some queens partially recovered, but the adverse effects of the insecticide were clear. While a monotypic diet of one pollen source did not lead to the same increased mortality or retarded movement, it did reduce the number of eggs a queen would lay.
"Ours is the first study to explore the impact of multiple stressors on bumblebee queens during an understudied but important phase of their lives. It joins a small but growing body of research suggesting there are unique effects on queens that can have dramatic consequences for future generations," Dr. Woodard said.
Previous studies have indeed found neonicotinoids to be associated with altered feeding behaviors and reduced egg development in bumblebee queens, as well as the inhibition of pollination skills among bumblebee workers, the loss of bumblebees' characteristic "buzz" pollination technique, and reductions in overall colony size. And that represents a small sampling of independent scientific studies Beyond Pesticides has covered over only the past two years.
As Dr. Woodward suggests, this study adds to an already well-established body of scientific data indicating that U.S. regulators should reconsider the ongoing use of neonicotinoid insecticides. "Our research suggests there are hidden costs to insecticide use that may only be observed if you consider the totality of an organism's life history. This is intricately linked to human well-being because bee heath is extremely important for food production, biodiversity, and the environment," she said.
Now is the time to take action for pollinator health. Help bring back their buzz to landscapes throughout the United States by participating in Pollinator Week 2018.  Check out Beyond Pesticides' Pollinator Week 2018 website for actions you can take to help reclaim pollinator-safe spaces. Also, view Seeds that Poison.
All unattributed positions and opinions in this piece are those of Beyond Pesticides.
Source: UCR Press Release