20
Aug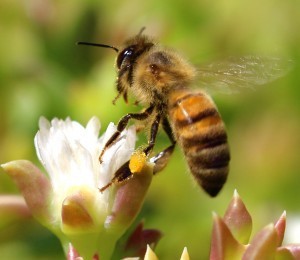 (Beyond Pesticides, August, 20, 2018) Health Canada's Pest Management Regulatory Agency (PMRA) has announced a plan to phase out the outdoor use of two neonicotinoid insecticides — thiamethoxam and clothianidin — over three to five years, due to concerns about their effects on aquatic invertebrates. This comes after their 2016 proposal to phase out another neonicotinoid, imidacloprid, for the same concerns, but the proposal has not been finalized. In April, the European Union (EU) voted to ban the most widely used neonicotinoids, citing risks to bees.
Earlier this year, PMRA proposed to phase out a number of uses of neonicotinoids in order to mitigate risks to pollinators. And now, after the Canadian agency initiated a special review based on a preliminary analysis of available information on the concentrations and frequency of detection of clothianidin in aquatic environment, the agency has proposed another round of phase-outs. The agency's review focused on assessing potential risk to aquatic invertebrates exposed to clothianidin applied as a seed, foliar or soil treatment. The assessment finds that, in aquatic environments in Canada, clothianidin and thiamethoxam are both being measured at concentrations that are harmful to aquatic insects. These insects, according to the agency, are an important part of the ecosystem, including as a food source for fish, birds and other animals. The agency goes on the state further, "Based on currently available information, most outdoor uses in Canada are not sustainable."
For instance, clothianidin uses on corn and soybean (seed treatment), potatoes, vegetables, and orchards and vineyards (foliar spray) led to frequent exceedances to the chronic level of concern for freshwater invertebrates. As a result, PMRA proposing to cancel all outdoor uses of clothianidin and thiamethoxam on food and feed crops, including seed treatments, and on turf. This will occur over a three to five-year timeframe. The agency will also "consider alternate risk management proposals, provided that they can achieve acceptable levels in the environment within the same timeframe."
Canadian beekeepers have reported significant losses since neonicotinoids were given conditional registration by PMRA. Despite growing complaints, PMRA continued to renew conditional registrations. This new decision, along with the 2016 proposed decision on imidicloprid, brings Canada in line with the European Union which banned the pesticides in April this year after a moratorium on their use since 2013
The proposed special review decision is open for public consultation for 90 days.
PMRA and the U.S. Environmental Protection Agency (EPA) collaborate on their pollinator assessments, which are based on the jointly developed harmonized Guidance for Assessing Pesticide Risks to Bees. In 2016, PMRA released its aquatic assessment of imidacloprid which found that the pesticide was building up in the surface and groundwater water and causing widespread death among aquatic insects. Its interim recommendation then was to ban imidacloprid from most agricultural and outdoor uses entirely, however, a final decision has been delayed. EPA's assessment of imidacloprid also found high risks to aquatic insects. Earlier this year, EPA ended its public comment period for the ecological impacts of the neonicotinoids, with the separate pollinator assessments released last year. EPA's risk assessments find deadly impacts to birds from neonicotinoid-treated seeds, poisoned insect prey, and contaminated grasses. However, EPA has not indicated whether it will restrict or ban the use of these chemicals.
In April 2018, European Union (EU) member states backed a proposal to further restrict uses of bee-toxic neonicotinoids finding the pesticides' outdoor uses harm bees. These restrictions go beyond those already put in place in 2013, and now all outdoor uses of clothianidin, imidacloprid, and thiamethoxam will be banned. According to the European Commission, the protection of bees is an important issue since it concerns biodiversity, food production, and the environment.
Researchers have found that tiny amounts of neonicotinoids are enough to cause migrating songbirds to lose their sense of direction. A recent study by U.S. Geological Survey (USGS) researchers found neonicotinoids widespread in the Great Lakes at levels that harm aquatic insects, and potentially the aquatic food web—the foundation of healthy aquatic ecosystems. The Beyond Pesticides report Poisoned Waterways documents the persistence of neonicotinoids in U.S. waterbodies and the danger they cause to aquatic organisms, resulting in complex cascading impacts on the aquatic food web. The report also highlights current regulatory failures of EPA aquatic standards, which continue to underestimate risks to sensitive species, due to a reliance on test protocols that do not reflect real-world exposures or susceptibilities.
The loss of bees represents a significant issue for food sources since about one-third of food crops require pollinators for production.  Numerous scientific studies implicate neonicotinoid pesticides as key contributors to the global decline of pollinator populations. EPA's own scientists have found that neonicotinoids pose far-reaching risks not only to bees but to birds and aquatic invertebrates.
Previous studies have indeed found neonicotinoids to be associated with altered feeding behaviors and reduced egg development in bumblebee queens, as well as the inhibition of pollination skills among bumblebee workers, the loss of bumblebees' characteristic "buzz" pollination technique, and reductions in overall colony size.
Given the historic move in Europe, and this proposal in Canada. U.S. regulators must also take action to protect sensitive species from toxic neonicotinoids. Help push EPA to take substantive action on neonicotinoids by urging your U.S. Representative to support the Saving America's Pollinators Act. With managed honey bee losses remaining at unsustainable levels and many wild pollinators at risk of extinction, for the future of food and our environment, it is urgent that the U.S. finally protect pollinators.
All unattributed positions and opinions in this piece are those of Beyond Pesticides.
Source: The Star; Health Canada