05
Sep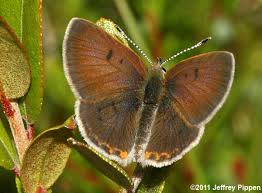 (Beyond Pesticides, September 5, 2017) The bog copper butterfly (Lycaena epixante) is a member of the second largest family of butterflies, Lycaenidae, which includes over 4,700 species worldwide. Also known as the cranberry-bog copper butterfly, the species has strong biological ties to cranberry plants and its associated habitat.
Range
Bog coppers are unevenly distributed throughout Northeast United States and into Canada, with some ranging as far west as Minnesota. Populations are generally concentrated in acid bog environments containing wild cranberry, but have also been sighted in other damp acidic habitats, such as wet meadows. The butterfly requires an environment that is wet year-round, with ample sunlight. Bog coppers are highly adapted to this environment and do not migrate.
Diet and Pollination
The life cycle of the bog copper strongly depends on cranberry plants. Female butterflies lay single eggs leaves in late summer or early fall on the leaves of cranberry plants, usually near the edge of the bog, covered with sedges. Each female may lay 20-40 eggs. After developing into a first stage larva within the egg, the larva is protected from ice and freezing temperature during the winter by entering state of diapause, or dormancy. The egg is protected from dessication by the moist environment under the leaf, and from flooding by a convoluted membrane that traps bubbles of air. Bog coppers spend roughly 85% of their lives in their egg stage, emerging as larvae in spring to feed on cranberry leaves where the egg was laid. After a brief pupation period, bog coppers emerge as adults, and mating occurs 2-3 days before the females lay eggs, repeating their life cycle. Cranberry-bog copper adults feed almost solely on cranberry nectar, and their life cycle is timed so that emergence of adults coincides with flowering of cranberries. It may come as no surprise that the species is an important pollinator of wild cranberries.
Physiology
The bog copper is the smallest of the copper butterflies found in the United States, with a wing span ranging just under an inch. Both males and females have wings which are colored dark grey to brown on the front side, with a tinge of purplish gloss. Males also have black dots and an orange zig-zag line at the base of the front side of their wings. Both sexes have a white colored border around the edge of their wings. The back side of both males and females is generally colored grey to tan with small black spots and a reddish zig-zag at the base.
Ecological Role and Threats to Existence
Bog coppers are important pollinators of both large and small cranberry plants. The cranberry bog copper is not an important part of commercial cranberry production, because the butterfly is highly sensitive to insecticide exposure. Thus bog coppers are rarely found in commercial cranberry farms, leaving pollinators like the honey bee to perform the necessary pollination.
Recent research from Ellwood et al. finds that as a result of climate change, bog coppers and cranberry plants are increasingly mismatched ecologically. Cranberry plants flower earlier in warmer years. This is leading to unhappy consequences for bog coppers, which have not been known to alter their behavior in response to temperature changes. Thus, if cranberries flower earlier than bog coppers emerge as adults, the butterflies are likely to miss out on their critical food source. For any bog coppers who may incidentally be on a non-organic cranberry farm, early flowering may mean that the bog copper emerges at a time when insecticide spraying is most active.
In addition to insecticide use, cranberry-bog coppers are at risk from habitat destruction. Acidic areas where the insects live are prime spots for the development of peat mining or the creation of industrial cranberry operations. Natural hazards have always posed a threat –beavers, ecosystem engineers, can both create and destroy the conditions that bog coppers need to thrive. This small pollinator is also at risk from fire, natural succession to forests, and severe floods.
How to Protect the Species
Encourage a safer environment for cranberry-bog coppers by purchasing organic cranberries and cranberry products. Conventional cranberry production is known to make use of neonicotinoid insecticides, which once applied, will make their way into a plant's vascular system, and express itself in its pollen and nectar. Given that the bog copper's entire life cycle depends upon consuming the cranberry plant, it is little wonder why so few are found in and around commercial cranberry bogs. In addition to insecticides, conventional cranberry production applies significant quantities of fungicides, such as chlorothalonil and azoxystrobin, which are also likely to affect non-target pollinator species such as bog coppers. Buying organic will encourage the industry to transition to practices that do not necessitate the use of these toxic chemicals, and are likely to make commercial cranberry production a safer environment for the bog copper.
Although bog copper populations are considered relatively stable, their long-term outlook is questionable. While there are many states and localities where native cranberry bogs are protected, pressures from climate change and development will remain a factor for many years to come. Protecting these species will require concerted efforts to preserve their native habitat, and eliminate the introduction of environmental stressors such as pesticides.
Citations
Averill, A. and Sylvia, M., 1998. Cranberry insects of the Northeast.
Elwood et al. 2013. Cranberry flowering times and climate change in southern Massachusetts. International Journal of Biometerology. DOI 10.1007/s00484-013-0719-y https://www.researchgate.net/publication/256480641_Cranberry_flowering_times_and_climate_change_in_southern_Massachusetts
Encyclopedia of Life, N.D. Bog Copper. http://eol.org/pages/2682626/details#cite_note-rcgt-2
Moths and Butterflies of North America. N.D. Bog Copper. https://www.butterfliesandmoths.org/species/Lycaena-epixanthe
Pennsylvania Natural Heritage Program. N.D. Bog Copper. http://www.naturalheritage.state.pa.us/factsheets/11718.pdf
Pelikan, Matt. 2014. A highly evolved butterfly. MVtimes. http://www.mvtimes.com/2014/07/02/highly-evolved-butterfly/
Severns, P.M., Boldt, L. and Villegas, S., 2006. Conserving a wetland butterfly: quantifying early lifestage survival through seasonal flooding, adult nectar, and habitat preference. Journal of Insect Conservation, 10(4), pp.361-370.
United States Forest Service, N.D. The Bog Copper. https://www.fs.fed.us/wildflowers/pollinators/pollinator-of-the-month/bog_copper.shtml
Wright, D.M., 1983. Life history and morphology of the immature stages of the bog copper butterfly Lycaena epixanthe (Bsd. & Le C.)(Lepidoptera: Lycaenidae). Journal of Research on the Lepidoptera.